Sale!
Assassin's Creed Odyssey (Gold Edition)
Categories: Action Games, Open World Games, PlayFirst Games (Cracked Games), RPG (Role Playing) Games, Stealth Games
Tags: Action, Adventure, Assassin, Assassin's Creed, Atmospheric, Female Protagonist, Gore, Historical, Nudity, Open World, RPG, RPG (Role Playing), Sexual Content, Single Player, Singleplayer, Stealth, Story Rich, Third Person, Ubisoft, Ubisoft Bucharest, Ubisoft Kiev, Ubisoft Montpellier, Ubisoft Montreal, Ubisoft Quebec, Ubisoft Shanghai, Ubisoft Singapore, Violent
11 DVDs
৳ 550.00
Product Info

Assassin's Creed Odyssey tells a fictitious history of the Peloponnesian War between Sparta and Athens. The action role-playing game is set in 431 BC and allows players to control a female or male mercenary who is capable of fighting for the Sparta-commanded Peloponnesian League or the Athens-controlled Delian League.
The game features various historical personages such as Brasidas, Archidamus II, Hippokrates, Perikles, Aristophanes, Alkibiades, Kleon, Pythagoras, Democritus, Sokrates, and Aspasia. Mythical and historical Greek locations like the Odeon of Athens, ancient Argolis, Agora of Athens, Foloi oak forest and Kephallonia have been added to the game as well.
Assassin's Creed Odyssey also includes popular creatures from Greek mythology such as the Minotaur, Medusa, and Cyclops. The game emphasizes role-playing elements by featuring branching quests, multiple endings, and dialogue options. Players can adopt the role of Kassandra or Alexios. They can select the main character's gender.
The game has a notoriety system wherein mercenaries hunt down the player if they commit a crime such as stealing. The player character is a descendant of the king of Spartans, Leonidas I. Kassandra or Alexios inherits his broken spear, which provides the player with special abilities in fights.
Assassin's Creed Odyssey implements a skill tree system that lets the player unlock new skills. There are three skill trees – hunter (provides a wide range of attacks through a bow & arrow), assassin (focuses on silent take-downs and stealth) and warrior (focuses on fights that are weapons-based). The hitbox combat system gives players access to various special skills when their ability bar fills up.
⮑ PACKAGE INCLUDES

⮐
➥ All DLCs except UPlay Rewards are included and unlocked.
MATURE CONTENT DESCRIPTION
The developers describe the content like this:
This is an action-adventure game in which players assume the role of Alexios or Kassandra, mercenaries on a quest for vengeance. As players explore an open-world environment in Ancient Greece, they interact with characters, infiltrate enemy bases and strongholds, and kill human enemies. Players use swords, spears, and bows to kill enemy soldiers and bandits in melee-style combat. Players also use stealth attacks (e.g., knife stabbing) to dispatch enemies discreetly. Large blood-splatter effects occur as enemies are killed. A handful of cutscenes depict more intense acts of violence and/or gore: characters stabbed through the head/neck with bladed weapons; young characters thrown off a cliff; a man mauled by a mob as his arm gets thrown into the air. Some environments depict severed limbs and dismembered corpses on the ground. The game contains instances of sexual material: characters kissing and caressing before the screen fades to black (sex is implied though never shown); dialogue referencing sex and prostitution (e.g., "Anything goes in this sex andron"; "That is love, this is commerce. What are you into?"); a character hearing sexual moaning sounds behind a door. The words "f**k" and "sh*t" are heard in the game.
Features
TRAVEL TO ANCIENT GREECE 
From lush vibrant forests to volcanic islands and bustling cities, start a journey of exploration and encounters in a war torn world shaped by gods and men.

FORGE YOUR LEGEND
Your decisions will impact how your odyssey unfolds. Play through multiple endings thanks to the new dialogue system and the choices you make. Customize your gear, ship, and special abilities to become a legend.

FIGHT ON A NEW SCALE
Demonstrate your warrior's abilities in large scale epic battles between Athens and Sparta featuring hundreds of soldiers, or ram and cleave your way through entire fleets in naval battles across the Aegean Sea.

GAZE IN WONDER
Experience the action in a whole new light with Tobii Eye Tracking. The Extended View feature gives you a broader perspective of the environment, and the Dynamic Light and Sun Effects immerse you in the sandy dunes according to where you set your sights. Tagging, aiming and locking on your targets becomes a lot more natural when you can do it by looking at them. Let your vision lead the way and enhance your gameplay. 
Visit the Tobii website to check the list of compatible devices. 
—–
Additional notes:
Eye tracking features available with Tobii Eye Tracking.
Screenshots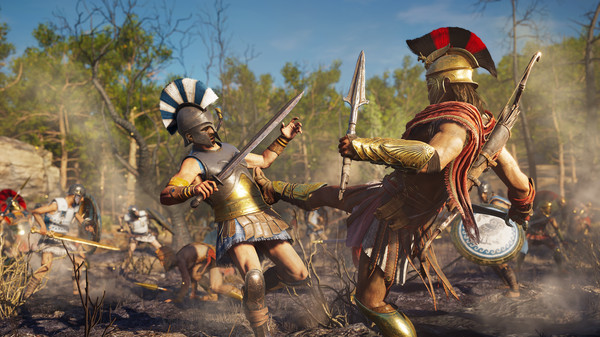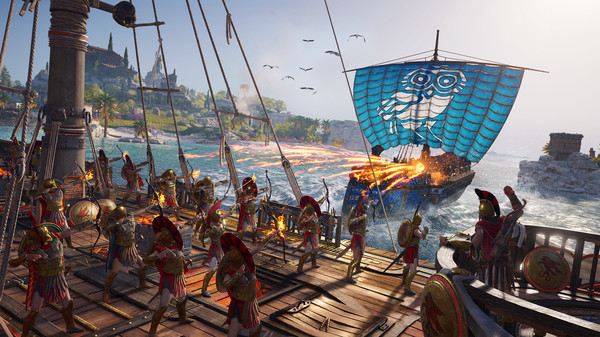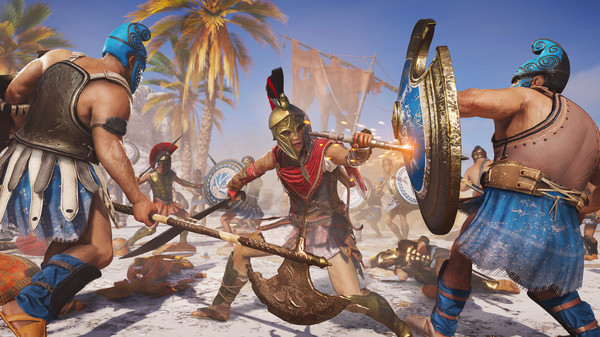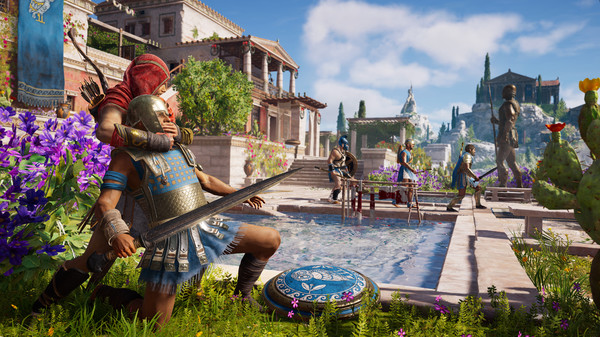 Requirements
Windows:

7 Sp1/8/8.1/10 (x64bit)


Processor:

Core i3 – 3.0 GHz or Higher


Ram:

8 GB or Higher


Agp:

2 GB or Higher


Hard Disk Space:

50 GB (Free Space Required for Installation)


Internet Connection:

No Need Any Internet Connection for this Installation
How to Buy?
⮑

Step_01:

⭝


⮑

Step_02:

⭝


⮑

Step_03:

⭝


⮑

Step_04:

⭝


⮑

Step_05:

⭝


⮑

Step_06:

⭝


⮑

Step_07:

⭝


⮑

Step_08:

⭝


⮑

Step_09:

⭝


⮑

Step_10:

⭝


⮑

Step_11:

⭝


⮑

Step_12:

⭝


(

Note:

If you face any problem please don't hesitate to contact our

Facebook Messenger

)
5 Stars

4 Stars

3 Stars

2 Stars

1 Stars
Average Star Rating: 0.0 out of 5 (0 vote)
If you finish the payment today, your order will arrive within the estimated delivery time.